WRITE A NEW WILL BEFORE THE DIVORCE, NOT AFTER
---
A very troubling case was referred to me recently by a close colleague who is a matrimonial attorney. His client died while in the midst of an acrimonious divorce. The result is the exact opposite of what the client would have wanted - since the husband she was divorcing was still her husband at the time of her death, he will remain her next of kin for all estate purposes. That means the husband will remain the executor and main beneficiary of her will, and will inherit all her assets for life, rather than having the assets passing to their kids.
In this circumstance, the situation was even worse, for several reasons. First, she was the one in the marriage who had the major assets and the greater income, so her death creates a windfall to him. Second, they had written wills together during the happy years of their marriage, and this actually makes things harder now. If she had not had a will, then there are ways that we could fight to have the marriage disregarded for estate purposes. That's hard to do - you have to have certain factual circumstances and prove them convincingly - but at least there's a legal pathway for it. However, in this case (contrary to the familiar saying), where there's a will, there's not a way. A will cannot be overturned unless it is revoked, superseded by a new will, or is invalid from the start. The spouse's role in the will does get negated, under New York law, as soon as the divorce is finalized. But until then, the marriage legally persists just as if it were still the honeymoon.
While you're married, New York law does not allow you to entirely disinherit your spouse - he or she can claim up to a third of your estate, even if you provide for nothing. But sheltering two-thirds of your assets from your estranged spouse is much better than not sheltering them. And what you certainly can do is to make someone else your executor, make someone else the trustee for your kids, and make someone else your health care proxy and your power-of-attorney agent.
If you're starting the process of a divorce, there are million things on your mind, and the possibility of your death is probably not one of them. But while it may be a small risk, there's a great deal at stake. So, item number one on the checklist when you're beginning a divorce should be to write a new will.
---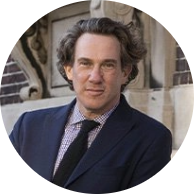 Ron L. Meyers
Ron Meyers graduated from Columbia University in 1992, from Harvard Law School in 1999, and has been practicing law in New York City since 2000. He worked for several years in major law firms on commercial real estate matters, such as the World Trade Center, the creation of the High Line and the redevelopment of Times Square. He turned to private-client work in 2007, opening his own practice in 2009, where has now served over 1,000 clients. He and his team handle estate planning, probate and residential real estate matters for individuals, couples, and families of all kinds.
---